Minicab For Shoppers
You've just spent the day at the shopping centre and have arms full of bags, which are weighing you down and making you dream of getting home. You really don't want to stand at the bus stop for ages waiting for the next bus to arrive, so what do you do? The answer is a simple one: you call us and we'll be with you incredibly quickly, after which you can relax and begin to unwind after a hard day of shopping.
Our taxi service can be booked well in advance, if you know the exact time and date you'd like us to pick you up. Normally, however, tired shoppers will simply call us when they have finished, and we are able to provide a taxi or minicab in absolutely no time at all. If you are part of a large group, we can also supply a larger vehicle, and will be happy to make multiple drop-offs – always ensuring that we choose the quickest and most cost-efficient route for you.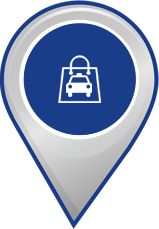 We cover all of the main shopping centres in the area, and know the surrounding area incredibly well – therefore meaning that we won't get lost or cause you to wait longer than needed. We also know that our prices are incredibly competitive, so you won't pay over the odds when you use our service. Low prices don't mean poor service though, as all of our vehicles are perfectly clean, and all of our drivers will always help you to get your shopping in and out of the car. It's all part of the perfect service we aim to provide!
We pride ourselves in offering the best taxi service in the area, with polite drivers, clean vehicles and low prices. Why not find out why so many people trust us to drive them every single day?
If you would like to book a minicab for shopping, please contact us today on +44 208 204 4444 or bookings@minicabs.co.uk. We also have a great mobile app – which is available for Apple and Android devices – which can be used to quickly and easily book a taxi at any time of the day or night. Why not download it today?
Other services we offer include airport transfers, school runs and hotel transfers. If you would like to find out more about these services, or any of the other services we offer, please don't hesitate to contact us today.