Hotel Transfer
You've just touched down after a long flight, safely negotiated your way through baggage and barged your way through the crowds outside. The last thing you now want to do is wait for ages for a taxi, often in a long queue full of other disgruntled and tired travellers. But that is where we are able to help.
Our hotel transfer service is designed to give you a quick journey to your hotel once you've landed, so that you don't have the stresses of worrying or waiting for ages for a taxi. We can be booked well in advance of your arrival date, and our drivers will be able to meet you as soon as you walk out, ready to take your bags and help you into a warm, comfortable and relaxing taxi. What's more, if needed, they will also assist you with your bags once you reach your destination.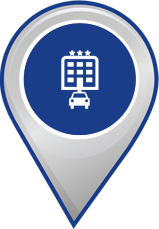 When it comes to price, we know that we can compete with any other taxi service in the area, while also ensuring that our service is only of the highest standard. We can also provide a variety of different vehicles to suit your precise needs, including larger vehicles for big groups, and wheelchair accessible taxis for disabled passengers. Please simply let us know your requirements when you book, and we will sort the rest!
It is also important to mention that we only employ the very best drivers in the region, therefore meaning that they know the roads perfectly and will always get you to your destination with the minimum of fuss. What's more, we will always give you an accurate price when you book, and no charges will be added on at a later date (unless you specifically request a change of route or an extra stop). We pride ourselves in the way in which we treat each and every passenger, and would never jeopardise our hard-won reputation.
If you are looking for a taxi or minicab for hotel transfer purposes or any other reason, please don't hesitate to contact us today. We can be called 27/7 on 0208 204 4444 or through email bookings@minicabs.co.uk, or alternatively you can download our handy app and book a taxi directly and in seconds.
We also offer a number of other services, including taxis to the airport, courier services and removals, so please contact us if you would like to find out more.