Heathrow Airport Transfer
Our reliable Heathrow Airport transfer can be pre booked in advance for peace of mind from Heathrow Airport to London or going from London City to Heathrow Airport. For your peace of mind you can pre book a Heathrow taxi in advance and have the driver waiting for you inside the airport at the meeting point after the agreed waiting time. Our small team of knowledgeable individuals will advise you which vehicle from our large fleet is most suitable for your needs. All our drivers are DBS cleared and we are licensed by Transport For London.
We are always more than happy to assist you with queries relating to journey times, payment options and regular bookings. We take all the relevant information required for your Heathrow Airport transfer so the flight can be tracked in real time. Travelling can be stressful so the last thing you want to do after an eight hour flight is to be dragging your luggage through the train station or trying to wait and look for an available driver outside the already crowded airport. At Minicabs UK Ltd we aim for each Heathrow Minicab journey to be as stress free and smooth as possible.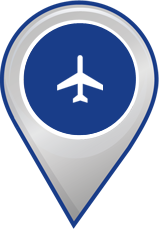 Once you land simply head through passport control, collect any luggage and the driver will be waiting for you at the specified meeting points. All arrival halls are on the ground floor except Heathrow Terminal 2 which is located on level 1. You can find more details of the meeting points below:
Heathrow Terminal 1 - Costa Coffee (Located on the right hand side as you walk in- Directly opposite the baggage reclaim hall).
Heathrow Terminal 2 - Caffè Nero (The big Caffè Nero is next to Boots which is on the left hand side as you walk in - On the right hand side as you come out of international baggage reclaim hall).
Heathrow Terminal 3 - Caffè Nero (Located next to Boots - On left hand side as you come down the lift or stairs from the car park - Towards the left when you come out of baggage reclaim hall).
Heathrow Terminal 4 - Costa Coffee (Located directly in between both entrances to the terminal- Directly opposite the baggage reclaim hall).
Heathrow Terminal 5 - Costa Coffee (Located in the middle of the terminal in between all entrances - Directly opposite the baggage reclaim hall)
We offer a free meet and greet service so whether you are booking a Heathrow Airport transfer for yourself or friends and family that are travelling with no UK mobile number then look no further than Minicabs UK Ltd. Find your competitive Heathrow Airport transfer quote online now within one minute.
Once your booking has been confirmed you will receive a confirmation SMS and email so it is not necessary to call us the night before as our Heathrow Airport Transfer will not let you down. When the driver has been despatched for the booking you will get another SMS for your minicab with the Driver details. All our Drivers are DBS checked and PCO licensed. The SMS message will include these details for your peace of mind and to comply with Private Hire regulations. Whether it be 12PM or 12AM you can always call our 24 Hour Control room on +44 208 204 4444 for assistance. Speak to us via live chat at the bottom of our website or via email at bookings@minicabs.co.uk for a prompt response.